General Info
Schedule Info
Operational Info
Lab Equipment
Navigational Info
Lift Capacity
Fish and Plankton Gear
Meteorological Equipment
Certification Details
Institution & Contact Info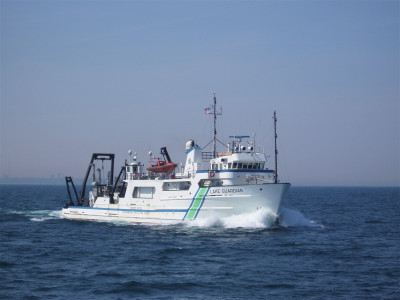 Name:
Lake Guardian
Captain:
Mallard, John
Length:
180
feet
Beam:
40
feet
Draft:
12
feet
Speed:
13
knots
Displacement:
959
tons
Hull:
steel / twin-screw Oceanographic
Year:
1981
Comments:
Certified Ocean Service by USCG- Ice class converted from an offshore supply vessel with North Sea type exhaust stacks and ABS class of Maltese cross A-1. Call Sign: WAO 9082. April and August the vessel works on all 5 Great Lakes on Spring and Summer Surveys respectively. The rest of the year it could be anywhere in the system, depending on the project.

For more information go to: LAKE GUARDIAN Homepage
| | 1st Period | 2nd Period |
| --- | --- | --- |
| Jan | | |
| Feb | | |
| Mar | | |
| Apr | | |
| May | | |
| Jun | | |
| Jul | | |
| Aug | | |
| Sep | | |
| Oct | | |
| Nov | | |
| Dec | | |
Crew Size ( inc. Captain ):
14
Number of Scientists Vessel can Accommodate:
27
Field Season:
March to October
Operation Days / Year:
180 (approx.)
Schedule Finalized in:
February

---

- No, does not contain option. - Yes, contains option.
Science Officer in Crew?:
Crew Provides Onboard Science Support?:
Payment In Kind? Time on Another Ship?
Fuel as a type of "Payment in Kind"?
Needed Equipment as a type of "Payment In Kind"?
"Piggyback" Research Permitted When Possible?
Encourage Crosstraining other Agencies with Vessel and Crew?
Vessel made available to outside Researchers?

---

Outside Research Payment:
Yes, dependent on work required
| | | |
| --- | --- | --- |
| Electrical Power: | 110/220/800- 6000 W UPS | |
| Water Supplies: | Superstill, Barnstead water purification systems | |
| Refrigerators / Freezers: | Yes | |
| Incubators / Water Baths: | 2 incubators | |
| Vacuum Pumps: | Y (lab) | |
| P.H. Meters: | Accument Benchtop | |
| D.O. Meters: | Seabird and/ or titration | |
| Conductivity: | Y.S.I. Model 35 | |
| Lab Space: | 1340 (6 labs) | |
| Other: | | |
| | | |
| --- | --- | --- |
| Radar: | 2 Furuno MU-19 X and S band | |
| GPS: | 2 Furuno GP-150 | |
| Radio: | 2 Standard Horizon Quantum | |
| Depth Sounders: | Furuno FCV-115 | |
| Other: | | |
| | | |
| --- | --- | --- |
| Winches / Cranes: | Sea-Mac (1400lb), Sea-Mac (1000lb), Tulsa (30,000lb), | |
| CTD`s BT`s: | Rosette 12- bottle; SEACAT SBE 16CTD; SBE 19CTD; | |
| Niskin Bottles: | 2.8, 8 and 30-liter | |
| Corers: | 12 | |
| Grabs: | Ponar | |
| Other: | | |
| | | |
| --- | --- | --- |
| Trawl Nets: | no | |
| Plankton Nets: | 153u; 64u; 10u | |
| Other: | | |
| | | |
| --- | --- | --- |
| Wind Speed / Direction: | Young 05106 Wind Monitor ?MA (NMEA-0183 output), Electric Speed Indicator, Model F420C ?WS4ROWA (analog) | |
| Thermometer: | Young 41342VC/VF Platinum Temperature Probe (NMEA-0183 output), RMS Tech, Inc. NA83RAC00095 | |
| Barometer: | Chelsea aneroid, Belfort Instrument Co. recording barograph, Young 61201 Barometric Pressure Sensor (NMEA-0183 output) | |
| Other: | | |
| | | |
| --- | --- | --- |
| Institution Required Certification: | | |
| Certification Captain: | 1600 GT with Great Lakes Pilotage | |
| Certification Crew: | 1600 GT Mate with Great Lakes Pilotage | |
| Certification Engineer: | Chief/Limited | |
| | | |
| --- | --- | --- |
| Home Port: | Milwaukee, Wisconsin | |
| Home Port Lake: | Lake Michigan | |
| Institution: | U.S. Environmental Protection Agency | |
| Contact Name: | Eda Lam | |
| Address: | 77 W. Jackson Blvd. | |
| City: | Chicago | |
| State / Province: | IL | |
| Country: | United States | |
| Postal / Zip Code: | 60604 | |
| Phone: | (312) 545-7339 | |
| Fax: | (312) 353 - 2018 | |
| Email: | Eda.Lam@epa.gov | |
This web site and all of its contents are © Copyright 2006-2022 International Joint Commission