General Info
Schedule Info
Operational Info
Lab Equipment
Navigational Info
Lift Capacity
Fish and Plankton Gear
Meteorological Equipment
Certification Details
Institution & Contact Info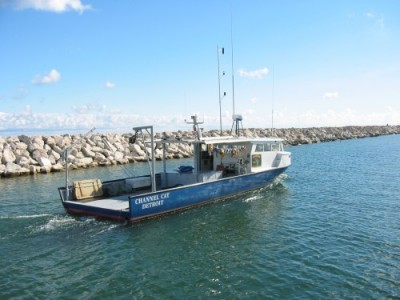 Name:
Channel Cat
Captain:
Beasley, Roy
Length:
46
feet
Beam:
13
feet
Draft:
4
feet
Speed:
11
knots
Displacement:
15
tons
Hull:
hard chine modified deep displacement
Year:
1968
Comments:
The Research Vessel Channel Cat operates out of the Lake St. Clair Research Station and works primarily on lakes Erie, Huron, and St. Clair. The research vessel conducts the Lake St. Clair Fish Community Survey, Lake St. Clair, Spring and Fall Trawls, the Sturgeon Setline Survey on the North Channel of the St. Clair River, the annual August Lake Erie Trawl Survey, the annual Saginaw Bay Fish Community Trawl Survey and other studies. To see some great YouTube coverage please visit: YouTube Coverage
Average rate estimate based on 5-man crew @ $50/hr x 8hrs = $2000, plus boat maintenance cost of $200 = $2200 total"
| | 1st Period | 2nd Period |
| --- | --- | --- |
| Jan | | |
| Feb | | |
| Mar | | |
| Apr | | |
| May | | |
| Jun | | |
| Jul | | |
| Aug | | |
| Sep | | |
| Oct | | |
| Nov | | |
| Dec | | |
Crew Size ( inc. Captain ):
5
Number of Scientists Vessel can Accommodate:
2
Field Season:
April to Nov
Operation Days / Year:
76
Schedule Finalized in:
March

---

- No, does not contain option. - Yes, contains option.
Science Officer in Crew?:
Crew Provides Onboard Science Support?:
Payment In Kind? Time on Another Ship?
Fuel as a type of "Payment in Kind"?
Needed Equipment as a type of "Payment In Kind"?
"Piggyback" Research Permitted When Possible?
Encourage Crosstraining other Agencies with Vessel and Crew?
Vessel made available to outside Researchers?

---

Outside Research Payment:
Yes $2200 U.S. per day
| | | |
| --- | --- | --- |
| Electrical Power: | Inverter 2.5 amp | |
| Water Supplies: | | |
| Refrigerators / Freezers: | | |
| Incubators / Water Baths: | | |
| Vacuum Pumps: | | |
| P.H. Meters: | | |
| D.O. Meters: | | |
| Conductivity: | | |
| Lab Space: | | |
| Other: | | |
| | | |
| --- | --- | --- |
| Radar: | Furuno 1835, 24-m | |
| GPS: | Loran- Raytheon 870/GP | |
| Radio: | Titan 6X2320S and Modar Triton D33ABA 1620BK | |
| Depth Sounders: | atamarine Sandpiper and JRC Color Echosounder JFV-90 | |
| Other: | | |
| | | |
| --- | --- | --- |
| Winches / Cranes: | 15,000lb Tulsa winch with 450ft warp and davit primarily for stern trawling Auxiliary davit with hand winch 12 | |
| CTD`s BT`s: | | |
| Niskin Bottles: | Kemmerer | |
| Corers: | | |
| Grabs: | Ponar | |
| Other: | | |
| | | |
| --- | --- | --- |
| Trawl Nets: | 33ft otter trawls | |
| Plankton Nets: | 1/2 meter 153u | |
| Other: | | |
| | | |
| --- | --- | --- |
| Wind Speed / Direction: | | |
| Thermometer: | 3-water, 2-air | |
| Barometer: | 1 salem | |
| Other: | | |
| | | |
| --- | --- | --- |
| Institution Required Certification: | | |
| Certification Captain: | 50 ton Great Lakes | |
| Certification Crew: | | |
| Certification Engineer: | | |
| | | |
| --- | --- | --- |
| Home Port: | Harrison Township | |
| Home Port Lake: | Detroit R. & St. Clair Lake/R. | |
| Institution: | Michigan Department of Natural Resources | |
| Contact Name: | Captain Roy Beasley | |
| Address: | 33135 S. River Rd. | |
| City: | Harrison Township | |
| State / Province: | MI | |
| Country: | United States | |
| Postal / Zip Code: | 48045 | |
| Phone: | 586-465-4771 | |
| Fax: | 586 465-7504 | |
| Email: | Beasleyr@MICHIGAN.GOV | |
This web site and all of its contents are © Copyright 2006-2020 International Joint Commission