General Info
Schedule Info
Operational Info
Lab Equipment
Navigational Info
Lift Capacity
Fish and Plankton Gear
Meteorological Equipment
Certification Details
Institution & Contact Info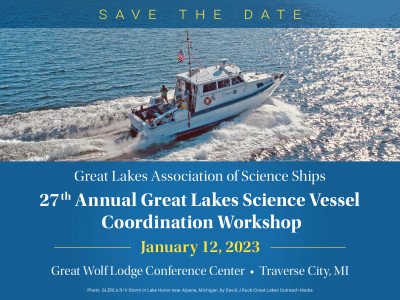 Name:
NOAA R5002 Storm
Captain:
Length:
50
feet
Beam:
17
feet
Draft:
6
feet
Speed:
18
knots
Displacement:
26
tons
Hull:
Aluminum Semi-Displacement
Year:
1992
Comments:
R5002 Storm is used to support the science missions, dive operations, and multi-beam/side scan for the Thunder Bay National Marine Sanctuary. It is a former Coast Guard Patrol vessel and was also used as a Training Vessel for the US Merchant Marine Academy at Kings Point, NY. The vessel was transited from New York Harbor to the Great Lakes in the fall of 2009. After undergoing a major overhaul at GLERL's Lake Michigan Field Station during the winter of 2010, Storm was transferred to Alpena, MI in the spring of 2010. The vessel was also retrofitted with a moon pool to house survey sonar heads. Additionally, the vessel carries a Klein 3000 side scan sonar, T-count instrumented sheave and survey grade Trimble DPGS positioning system. The Storm has limited overnight accommodations for up to 4 personnel.
| | 1st Period | 2nd Period |
| --- | --- | --- |
| Jan | | |
| Feb | | |
| Mar | | |
| Apr | | |
| May | | |
| Jun | | |
| Jul | | |
| Aug | | |
| Sep | | |
| Oct | | |
| Nov | | |
| Dec | | |
Crew Size ( inc. Captain ):
2
Number of Scientists Vessel can Accommodate:
4
Field Season:
April to October
Operation Days / Year:
Schedule Finalized in:
March, revised and updated constantly

---

- No, does not contain option. - Yes, contains option.
Science Officer in Crew?:
Crew Provides Onboard Science Support?:
Payment In Kind? Time on Another Ship?
Fuel as a type of "Payment in Kind"?
Needed Equipment as a type of "Payment In Kind"?
"Piggyback" Research Permitted When Possible?
Encourage Crosstraining other Agencies with Vessel and Crew?
Vessel made available to outside Researchers?

---

Outside Research Payment:
| | | |
| --- | --- | --- |
| Electrical Power: | 120/240v AC, 12 and 24 volt DC | |
| Water Supplies: | pump with sea water | |
| Refrigerators / Freezers: | Limited | |
| Incubators / Water Baths: | | |
| Vacuum Pumps: | | |
| P.H. Meters: | | |
| D.O. Meters: | | |
| Conductivity: | | |
| Lab Space: | Limited counter top and table | |
| Other: | | |
| | | |
| --- | --- | --- |
| Radar: | Furuno NavNet vx2 | |
| GPS: | Furuno NavNet vx2 | |
| Radio: | Raymarine and Standard Horizon VHF | |
| Depth Sounders: | Furuno LS6100 | |
| Other: | | |
| | | |
| --- | --- | --- |
| Winches / Cranes: | Deck crane located on starboard aft corner-capacity 1850 lbs, center mounted survey winch | |
| CTD`s BT`s: | Possible | |
| Niskin Bottles: | Possible | |
| Corers: | Possible | |
| Grabs: | Possible | |
| Other: | | |
| | | |
| --- | --- | --- |
| Trawl Nets: | N/A | |
| Plankton Nets: | possible | |
| Other: | | |
| | | |
| --- | --- | --- |
| Wind Speed / Direction: | Yes | |
| Thermometer: | | |
| Barometer: | | |
| Other: | | |
| | | |
| --- | --- | --- |
| Institution Required Certification: | | |
| Certification Captain: | USCG | |
| Certification Crew: | N/A | |
| Certification Engineer: | N/A | |
| | | |
| --- | --- | --- |
| Home Port: | Alpena, Michigan | |
| Home Port Lake: | Huron | |
| Institution: | National Oceanic and Atmospheric Administration (NOAA) | |
| Contact Name: | Dennis Donahue | |
| Address: | NOAA - GLERL Field Station 1431 Beach St. | |
| City: | Muskegon | |
| State / Province: | Michigan | |
| Country: | United States | |
| Postal / Zip Code: | 49441 | |
| Phone: | 231-759-5173 | |
| Fax: | 231-759-2414 | |
| Email: | Dennis.Donahue@noaa.gov | |
This web site and all of its contents are © Copyright 2006-2023 International Joint Commission