General Info
Schedule Info
Operational Info
Lab Equipment
Navigational Info
Lift Capacity
Fish and Plankton Gear
Meteorological Equipment
Certification Details
Institution & Contact Info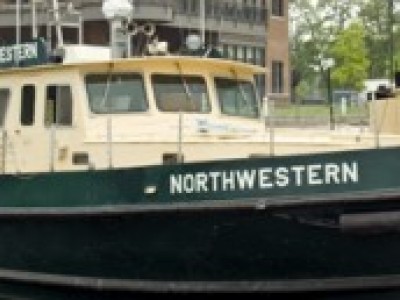 Name:
Northwestern
Captain:
Length:
56
feet
Beam:
14
feet
Draft:
4
feet
Speed:
10
knots
Displacement:
20
tons
Hull:
Aluminum
Year:
1969
Comments:
The Northwestern is a 56-foot, aluminum hull, twin-engine research vessel. With a 14-foot beam and a large salon, she is ideal for shorter trips within Grand Traverse Bay or a longer voyage if desired. The engines are 318 horsepower 8V71 Detroit Diesel plants which provide both power and good fuel economy. The Northwestern runs on bio-diesel and cruises at a speed of 10 knots while comfortably handling up to 20 passengers on day trips.
For more information about the Northwestern and NMC visit:
http://www.nmc.edu/maritime/about/facilities-vessels.html
| | 1st Period | 2nd Period |
| --- | --- | --- |
| Jan | | |
| Feb | | |
| Mar | | |
| Apr | | |
| May | | |
| Jun | | |
| Jul | | |
| Aug | | |
| Sep | | |
| Oct | | |
| Nov | | |
| Dec | | |
Crew Size ( inc. Captain ):
2
Number of Scientists Vessel can Accommodate:
18
Field Season:
April through November
Operation Days / Year:
Schedule Finalized in:

---

- No, does not contain option. - Yes, contains option.
Science Officer in Crew?:
Crew Provides Onboard Science Support?:
Payment In Kind? Time on Another Ship?
Fuel as a type of "Payment in Kind"?
Needed Equipment as a type of "Payment In Kind"?
"Piggyback" Research Permitted When Possible?
Encourage Crosstraining other Agencies with Vessel and Crew?
Vessel made available to outside Researchers?

---

Outside Research Payment:
| | | |
| --- | --- | --- |
| Electrical Power: | 110 volt AC, 60 amps, 12 and 24 volt DC | |
| Water Supplies: | | |
| Refrigerators / Freezers: | | |
| Incubators / Water Baths: | | |
| Vacuum Pumps: | | |
| P.H. Meters: | | |
| D.O. Meters: | | |
| Conductivity: | | |
| Lab Space: | | |
| Other: | | |
| | | |
| --- | --- | --- |
| Radar: | | |
| GPS: | | |
| Radio: | | |
| Depth Sounders: | | |
| Other: | | |
| | | |
| --- | --- | --- |
| Winches / Cranes: | | |
| CTD`s BT`s: | | |
| Niskin Bottles: | | |
| Corers: | | |
| Grabs: | | |
| Other: | | |
| | | |
| --- | --- | --- |
| Trawl Nets: | | |
| Plankton Nets: | | |
| Other: | | |
| | | |
| --- | --- | --- |
| Wind Speed / Direction: | | |
| Thermometer: | | |
| Barometer: | | |
| Other: | | |
| | | |
| --- | --- | --- |
| Institution Required Certification: | | |
| Certification Captain: | | |
| Certification Crew: | | |
| Certification Engineer: | | |
| | | |
| --- | --- | --- |
| Home Port: | Traverse City, Michigan | |
| Home Port Lake: | Lake Michigan | |
| Institution: | Northwestern Michigan College | |
| Contact Name: | Hans W. Van Sumeren | |
| Address: | Great Lakes Water Studies Institute, Northwestern Michigan College 1701 E. Front Street | |
| City: | Traverse City | |
| State / Province: | Michigan | |
| Country: | United States | |
| Postal / Zip Code: | 49686 | |
| Phone: | 231-995-1793 | |
| Fax: | 231-995-1794 | |
| Email: | hvansumeren@nmc.edu | |
This web site and all of its contents are © Copyright 2006-2021 International Joint Commission