General Info
Schedule Info
Operational Info
Lab Equipment
Navigational Info
Lift Capacity
Fish and Plankton Gear
Meteorological Equipment
Certification Details
Institution & Contact Info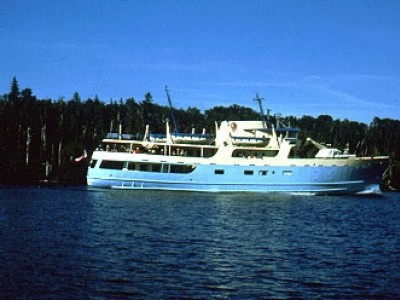 Name:
Ranger III
Captain:
Hanrahan, Bill
Length:
165
feet
Beam:
34
feet
Draft:
10.5
feet
Speed:
11
knots
Displacement:
650
tons
Hull:
Steel Displacement
Year:
1958
Comments:
The vessel's primary mission is the logistical support of Isle Royale National Park, however it could be made available to serve as a research platform on a case by case basis as determined by the NPS. Overall length is 165 ft. LBP is 152.8 ft. In 1998 the vessel was repowered with twin 850 hp Cats and a 250 hp bow thruster was added. For more information see the Ranger III web page: Ranger III webpage (click)
Current projects (2010):
Michigan Tech Research Institute (MTRI) - study of environmental conditions (air quality, pressure, etc.) crossing Lake Superior used to augment data base research tools and public education via an onboard public display unit. Project manager - Chris Roussi, MTU; MTRI project measuring of autonomous water quality using instrumentation connected to water intakes. PM - Robert Shuchman, PH. D., MTU; NPS/EPA/MTRI experimental emergency ballast treatment system that treats ballast water for Viral Hemorrhagic Septicemia (VHS) et al using (6%) Sodium Hypochlorite solution and neutralization by ascorbic acid. PM - NPS Chief Engineer, Edward Hickey.
Currently the NPS/EPA/MTRI is embarking on a project for a permanent ballast treatment system of exotic species that may help to develop standards for other commercial ships using the Great Lakes. The work will focus on fresh water systems. PM - Phyllis Green, Superintendent, ISRO.
| | 1st Period | 2nd Period |
| --- | --- | --- |
| Jan | | |
| Feb | | |
| Mar | | |
| Apr | | |
| May | | |
| Jun | | |
| Jul | | |
| Aug | | |
| Sep | | |
| Oct | | |
| Nov | | |
| Dec | | |
Crew Size ( inc. Captain ):
9
Number of Scientists Vessel can Accommodate:
0
Field Season:
Operation Days / Year:
Schedule Finalized in:

---

- No, does not contain option. - Yes, contains option.
Science Officer in Crew?:
Crew Provides Onboard Science Support?:
Payment In Kind? Time on Another Ship?
Fuel as a type of "Payment in Kind"?
Needed Equipment as a type of "Payment In Kind"?
"Piggyback" Research Permitted When Possible?
Encourage Crosstraining other Agencies with Vessel and Crew?
Vessel made available to outside Researchers?

---

Outside Research Payment:
| | | |
| --- | --- | --- |
| Electrical Power: | | |
| Water Supplies: | | |
| Refrigerators / Freezers: | | |
| Incubators / Water Baths: | | |
| Vacuum Pumps: | | |
| P.H. Meters: | | |
| D.O. Meters: | | |
| Conductivity: | | |
| Lab Space: | | |
| Other: | | |
| | | |
| --- | --- | --- |
| Radar: | | |
| GPS: | | |
| Radio: | | |
| Depth Sounders: | | |
| Other: | | |
| | | |
| --- | --- | --- |
| Winches / Cranes: | 3.1 ton hydraulic crane w/30 ft boom | |
| CTD`s BT`s: | none | |
| Niskin Bottles: | none | |
| Corers: | | |
| Grabs: | none | |
| Other: | | |
| | | |
| --- | --- | --- |
| Trawl Nets: | | |
| Plankton Nets: | | |
| Other: | | |
| | | |
| --- | --- | --- |
| Wind Speed / Direction: | | |
| Thermometer: | | |
| Barometer: | | |
| Other: | | |
| | | |
| --- | --- | --- |
| Institution Required Certification: | | |
| Certification Captain: | 1 | |
| Certification Crew: | 9 | |
| Certification Engineer: | 1 | |
| | | |
| --- | --- | --- |
| Home Port: | Houghton, Michigan | |
| Home Port Lake: | Lake Superior | |
| Institution: | National Park Service | |
| Contact Name: | Phyllis Green | |
| Address: | 800 E. Lake Shore Dr. | |
| City: | Houghton | |
| State / Province: | Michigan | |
| Country: | United States | |
| Postal / Zip Code: | 48831 | |
| Phone: | (906) 487 - 7164 | |
| Fax: | (906) 487 - 7170 | |
| Email: | phyllis_green@nps.gov | |
This web site and all of its contents are © Copyright 2006-2019 International Joint Commission