General Info
Schedule Info
Operational Info
Lab Equipment
Navigational Info
Lift Capacity
Fish and Plankton Gear
Meteorological Equipment
Certification Details
Institution & Contact Info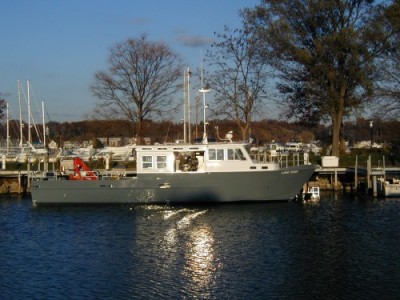 Name:
Lake Char
Captain:
Rathbun, Kevin
Length:
56
feet
Beam:
16
feet
Draft:
4.5
feet
Speed:
19
knots
Displacement:
26.5
tons
Hull:
Aluminum Displacement
Year:
2006
Comments:
The R/V Lake Char was built as a replacement for the R/V Judy which has been used on Lake Superior since 1981. The primary duties of the R/V Lake Char are conducting the gill net survey work of adult and pre-recruit lake trout on Lake Superior. The vessel is designed to accommodate additional survey gear for future studies such as equipment used for trawling, trap netting, deep-water gill netting and hydroacoustic studies. The R/V Lake Char is powered with twin Caterpillar C-12 diesel engines which are rated at 454 bhp each. During the 2019 field season the crew collected 4874 fish of various species in 221,100 feet (41.9 statue miles) of gill net. The Lake Char had 390 hours of sea time. For more information see: Michigan DNR site.
Added trawling gear and hydro acoustic equipment to help aid in our research on Lake Superior
| | 1st Period | 2nd Period |
| --- | --- | --- |
| Jan | | |
| Feb | | |
| Mar | | |
| Apr | | |
| May | | |
| Jun | | |
| Jul | | |
| Aug | | |
| Sep | | |
| Oct | | |
| Nov | | |
| Dec | | |
Crew Size ( inc. Captain ):
Minimum of 4
Number of Scientists Vessel can Accommodate:
0
Field Season:
April-November
Operation Days / Year:
Varies
Schedule Finalized in:
Varies

---

- No, does not contain option. - Yes, contains option.
Science Officer in Crew?:
Crew Provides Onboard Science Support?:
Payment In Kind? Time on Another Ship?
Fuel as a type of "Payment in Kind"?
Needed Equipment as a type of "Payment In Kind"?
"Piggyback" Research Permitted When Possible?
Encourage Crosstraining other Agencies with Vessel and Crew?
Vessel made available to outside Researchers?

---

Outside Research Payment:
No
| | | |
| --- | --- | --- |
| Electrical Power: | 20 kw generator and 50A/250V shore power | |
| Water Supplies: | Hot and Cold available | |
| Refrigerators / Freezers: | 5 cubic ft. upright freezer | |
| Incubators / Water Baths: | | |
| Vacuum Pumps: | | |
| P.H. Meters: | | |
| D.O. Meters: | | |
| Conductivity: | | |
| Lab Space: | 186 Square feet | |
| Other: | | |
| | | |
| --- | --- | --- |
| Radar: | RayMarine Pathfinder 55 4kw 4 ft. open array | |
| GPS: | RayMarine GPS 125 w/ E120 Display | |
| Radio: | ICOM 602 VHF radio w/ hailer, Uniden Solara DSC | |
| Depth Sounders: | RayMarine DSM 300 Sounder | |
| Other: | | |
| | | |
| --- | --- | --- |
| Winches / Cranes: | Amko Veba Deck Crane, Crossley 30 | |
| CTD`s BT`s: | | |
| Niskin Bottles: | | |
| Corers: | | |
| Grabs: | Ponar sediment sampler | |
| Other: | | |
| | | |
| --- | --- | --- |
| Trawl Nets: | None | |
| Plankton Nets: | None | |
| Other: | | |
| | | |
| --- | --- | --- |
| Wind Speed / Direction: | RayMarine ST 60 test | |
| Thermometer: | | |
| Barometer: | | |
| Other: | | |
| | | |
| --- | --- | --- |
| Institution Required Certification: | | |
| Certification Captain: | USCG 50 ton Master | |
| Certification Crew: | | |
| Certification Engineer: | | |
| | | |
| --- | --- | --- |
| Home Port: | Marquette, Michigan | |
| Home Port Lake: | Lake Superior | |
| Institution: | MDNR-Marquette Fisheries Research Station | |
| Contact Name: | Kevin Rathbun | |
| Address: | 488 Cherry Creek Road | |
| City: | Marquette | |
| State / Province: | MI | |
| Country: | United States | |
| Postal / Zip Code: | 49855 | |
| Phone: | (906) 249 - 1611 ext | |
| Fax: | (906) 249 - 3190 | |
| Email: | rathbunk@michigan.gov | |
This web site and all of its contents are © Copyright 2006-2020 International Joint Commission